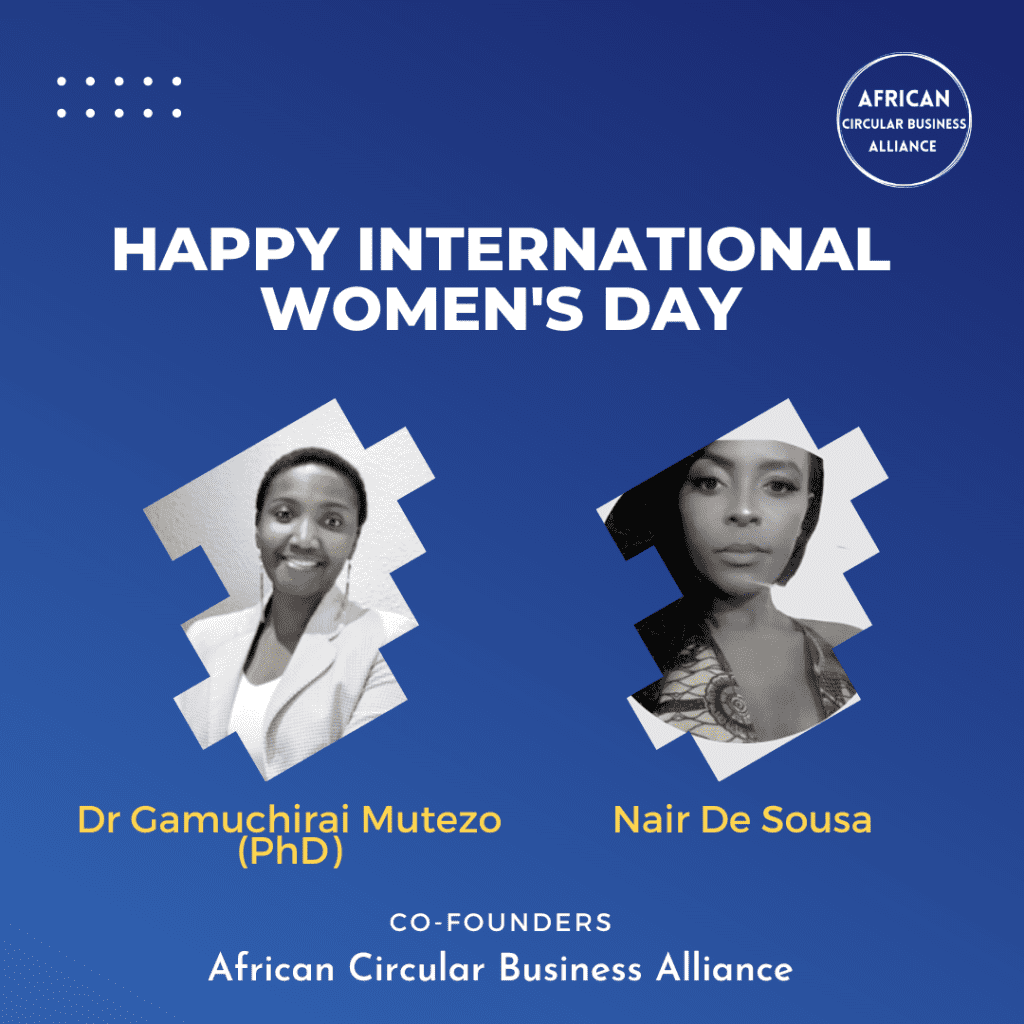 On this International Women's Day, we celebrate the incredible work, achievements and leadership of Nair de Sousa, our Energy Sustainability Director, and Dr Gamuchirai Mutezo (PhD), our Director for Circular Business Models; two extraordinary women and co-founders of the African Circular Business Alliance (ACBA), a successful multinational company on a mission to make a positive impact in communities across Africa and the world.
Their exceptional leadership skills, business acumen and story are one of inspiration and hope, especially for women looking to make their mark in the business world.
Nair and Dr Gamuchirai alongside Miguel Peters (CEO) co-founded and built ACBA with a vision to create a sustainable and socially responsible business model to impact both businesses and communities positively in Africa and the world. Their leadership skills were evident from the very beginning, as they were able to assemble a diverse team of individuals with a shared commitment to the company's mission.
One of the most remarkable things about Nair and Dr Gamuchirai is their unwavering dedication to inclusivity. They have created a workplace culture that values diversity, equity, and inclusion. They believe that every team member should be able to bring their whole selves to work and that their differences should be celebrated rather than ignored.
Nair and Dr Gamuchirai have also made a significant impact in multiple African communities by working closely with various organisations to support education on energy, circular economy, climate awareness and other important initiatives that address the climate change crisis and growing energy demand, particularly on the African continent. They have also been vocal advocates for gender equality, using their platform to amplify the voices of women and girls.
Additionally, their leadership skills have been invaluable in guiding their team to success, and they have fostered a work environment that is inclusive and empowering for all their employees. Nair and Dr Gamuchirai have also been active in mentoring other young women entrepreneurs in their community, encouraging them to pursue their dreams and overcome any obstacles they may face. Their achievements are not only limited to their community but have also been recognized on both a national and international level.
They have shown that it is possible to build a successful business while also making a positive impact on the world. Their success as women in business is a testament to their hard work, perseverance, and leadership skills, and their story is a reminder that when women are allowed to lead, they can create powerful change that benefits everyone.
As we celebrate International Women's Day, let us honour the achievements of Nair and Dr Gamuchirai and all the other women who are making a difference in their communities and the world. Let us continue to support and empower women so that they can reach their full potential and make their mark on the world.
Happy International Women's Day from all of us at the African Circular Business Alliance (ACBA)