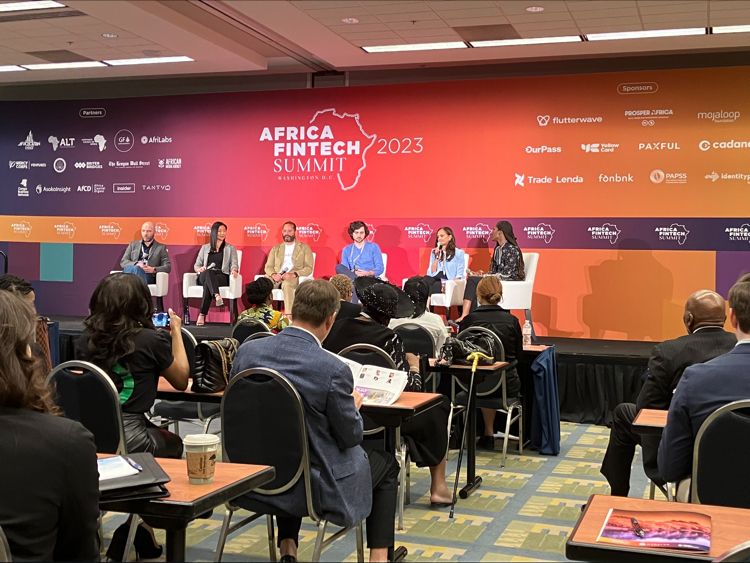 The Africa Fintech Summit held on 12 of April 2023 in Washington DC brought together some of the most influential leaders of the global financial and business community among them our CEO Miguel Peters, to learn, network and discuss developments and trends in the dynamic market of finance and business, in the largest bi-annual gathering of financial technology stakeholders on the African continent.
The impact of financial technology (fintech) on Africa's financial sector and other key sectors has been phenomenal. Across many countries in Africa, Fintech is improving financial inclusion and stimulating innovation and productivity in major industry sectors. Fintech has already changed the way people live and do business, make payments, store their funds, invest, or even buy products, but this is only the beginning. The sector is accelerating and enhancing financial inclusion thereby directly contributing to GDP growth and creating more income and employment.
In addition, fintech has enabled new forms of finance, such as peer-to-peer lending and crowdfunding, which provide an alternative source of funding for entrepreneurs and small businesses. This is important because access to finance has been a significant barrier to growth for many African businesses, particularly those in the Circular Economy sector. The exclusive event had a packed day of keynotes, networking and showcasing the latest in FinTech with professionals from Payments, CleanTech, CircularTech, Blockchain, Banking, Insurance, Digital Banking, Digital Wallets, Lending, AI in Fintech, Insurtech, RegTech, Business Groups, amongst others to discuss new ideas about digital transformation and inclusion in the financial ecosystem.
The event also held important sessions and breakouts such as:
The State of Africa – USA Fintech Connection: highlighting the current state of the fintech relationship between Africa and the United States
Fintech Accelerating Climate Sustainability Goals; identifying key roles played by FinTechs in accelerating climate adaptation and achieving various sustainability goals by building applications that have a meaningful impact on the future of our climate
Accelerating Intra-African Trade with Fintech under the AfCFTA: highlighting the market opportunity for cross-border traders and the financial institutions powering their transactions as well as the commercial launch of the Pan-African Payment & Settlement Systems (PAPSS) to provide trade across currencies and borders seamlessly with continent-wide settlement infrastructure
In conclusion, Financial Technology has the potential to play a transformative role in Africa's sustainable development and the African Circular Business Alliance (ACBA) is proud to be part of important movements, events and activities that bring together great leaders in the fintech and business community to discuss developments and trends in the dynamic market of finance and its role in Africa's sustainable development and growth.
Our appreciation goes to the U.S. Department of State for participation support.