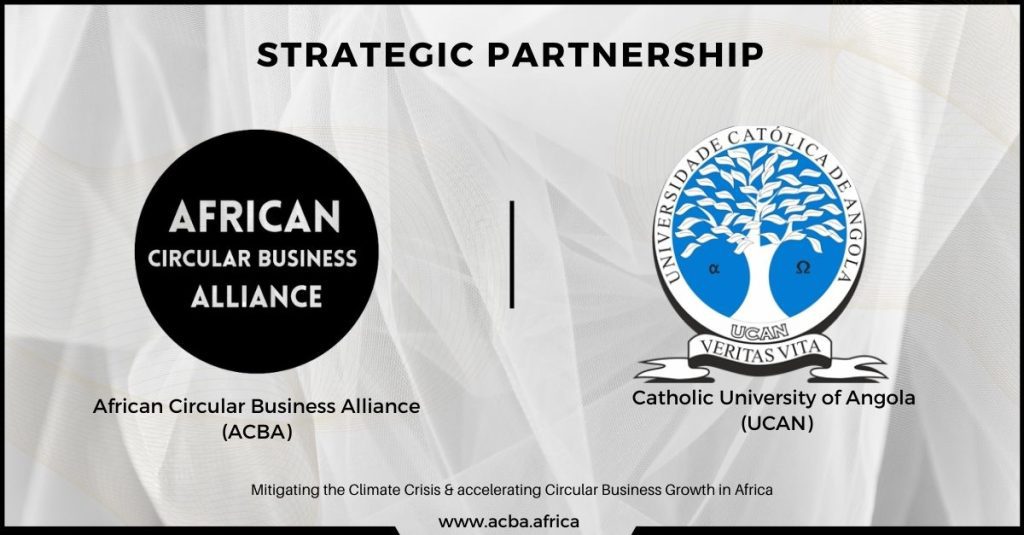 Cape Town, South Africa, May 29, 2023 – The African Circular Business Alliance (ACBA) and The Catholic University of Angola (UCAN) are proud to announce their strategic partnership aimed at addressing pressing climate change issues through scientific and technical research, as well as comprehensive training sessions in key sectors such as Energy, Technology, Food & Agriculture, Nature Conservation, and other fields that can contribute to solving the global challenge of climate change.
The collaboration between ACBA and UCAN comes at a time when the urgency to find sustainable solutions to climate change is greater than ever. Recognizing the need for multi-stakeholder cooperation, both organisations are committed to leveraging their expertise, resources, and networks to drive innovation, foster knowledge exchange, and build capacity in the fight against climate change in Angola, South Africa and across the African continent.
Under this partnership, ACBA will work closely with UCAN's faculty and research teams, promoting collaboration between academia, industry, and governments, to conduct scientific and technical research. By harnessing the collective intellect and interdisciplinary capabilities, the aim is to develop innovative approaches, technologies, and policy frameworks that address climate change challenges and promote circular economy principles.
Furthermore, the collaboration will facilitate training sessions and workshops in the Energy, Technology, Food & Agriculture, and Nature Conservation sectors, as well as other relevant fields. These sessions will equip professionals, policymakers, and other stakeholders with the necessary knowledge and skills to implement sustainable practices, manage resources efficiently, and mitigate the impacts of climate change.
Mr Miguel Peters, Chief Executive Officer of the African Circular Business Alliance (ACBA), expressed his enthusiasm for this partnership, stating, "We are delighted to join forces with The Catholic University of Angola to advance our shared commitment to addressing climate change. By combining our strengths, we believe we can accelerate the transition towards a circular economy and create positive environmental and social impact across Africa. Through research, training, and collaboration, we aim to foster a new generation of leaders who will drive sustainable change."
Rev. Sister Dr. Maria de Assunção, Magnificent Rector of The Catholic University of Angola, echoed the sentiment, saying, "This partnership aligns perfectly with our university's mission to contribute to the development of Angola and the African continent. By engaging in impactful research and equipping individuals with the necessary skills, we can collectively address the climate crisis and pave the way for a more sustainable future. We look forward to working closely with the African Circular Business Alliance to make a tangible difference."
The partnership between ACBA and UCAN is set to begin with joint research projects, training programs, and collaborative initiatives in the pipeline. Both organisations are committed to sharing their findings, insights, and best practices with the broader scientific community, policymakers, and industry leaders to catalyze systemic change and create lasting solutions to combat climate change.
For media inquiries and more information about the partnership, please contact:
ACBA Media Contact:
Email: press@acba.africa
UCAN Media Contact:
Email: contacto@ucan.edu
About African Circular Business Alliance (ACBA):
African Circular Business Alliance (ACBA) is a multinational organisation dedicated to advancing circular economy principles throughout Africa by providing businesses and organisations with the necessary tools and resources to transition to circular practices and achieve net-zero goals. Through its directors, ACBA applies its respected thought leadership and effective advocacy to generate constructive long-term solutions and take shared action to drive business action on sustainability in the coming decade and beyond. ACBA works alongside policymakers, industry experts, civil society organisations, governmental agencies, academics, and many other stakeholders to establish a supportive ecosystem for circular economy initiatives and heighten consciousness about the benefits of circular economy practices and sustainability.
About The Catholic University of Angola (UCAN):
The Catholic University of Angola (UCAN) is a classic and prestigious institution based in Angola which is committed to teaching and forming the young generation with quality and rigour to conduct research with the purpose of transforming societies. Being a Catholic institution, UCAN has a very traditional and philosophical approach to life by encouraging the power of truth, transparency and knowledge which are some of the major guidelines that govern the university. Through its slogan "Veritas Vita" UCAN uses its prestigious approach to support human life in all its dimensions by teaching based on its transformational view and unceasing reflection for the creation of knowledge, critical analysis, and dissemination of culture, science & technology, and the provision of services to the community. This way, UCAN contributes to economic and social development, the protection of the environment, the promotion of social justice, the enlightenment of responsible citizenship and the consolidation of sovereignty based on knowledge.