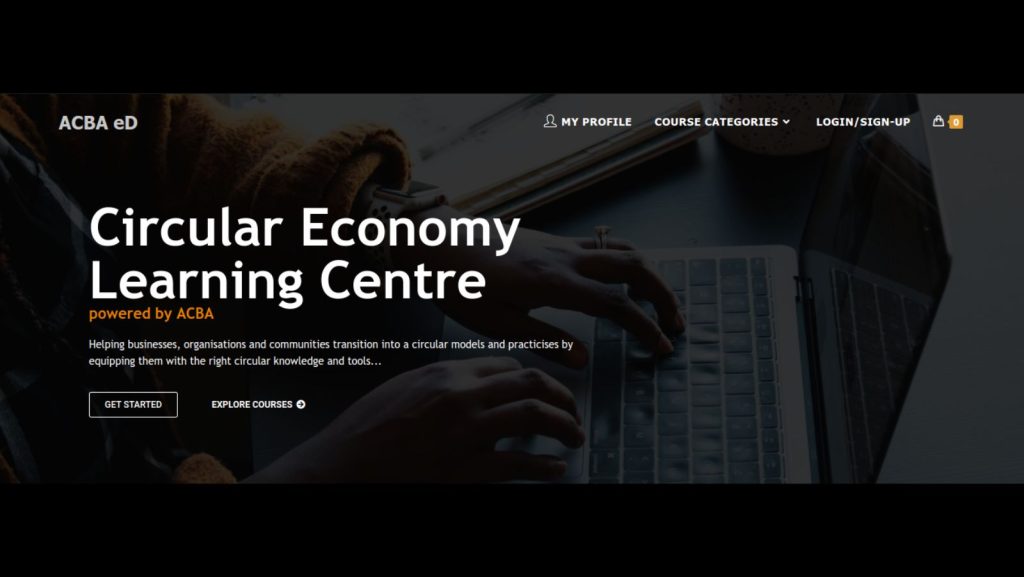 CAPE TOWN, South Africa – April 5, 2023: We are thrilled to announce the launch of ACBA eD, a new online learning platform specifically designed for businesses and organisations looking to adopt more sustainable and circular economy practices to transform their communities positively. Starting in July 2023, the platform will be officially open, offering a range of courses and training programs to help businesses and organisations transition to circular economy principles and achieve net-zero carbon emissions targets.
At ACBA, we believe that businesses and organisations play a critical role in solving Climate Change issues and driving the transition to a sustainable circular economy environment. So, by adopting circular business models, new products and services can be locally produced and designed for longevity and durability, thereby reducing waste and creating new economic opportunities for development and growth. To help businesses and organisations achieve these goals in their communities, we have developed an online educative platform with a comprehensive curriculum that covers topics such as:
Circular economy principles and frameworks
Sustainable design and product development
Circular business models and value creation
Circular supply chains and logistics
Low Carbon Technologies for Climate Adaptation and Resilience
Resource efficiency and waste reduction
Circular finance and investment, amongst others
Our courses are designed and taught by leading experts in various fields integrating circular economy in multiple sectors such as Energy, Food & Agriculture, Buildings & Construction, Finance & Investments, Transportation, Conservation, Digitalisation, and Recycling amongst others. We offer flexible learning options to fit the needs of busy professionals, and participants can choose from self-paced courses, as well as engage in live online classes and interactive workshops.
In addition to our core curriculum, we also offer customized training programs for businesses and organisations looking to build circular economy skills and knowledge among their teams. Our team of experts can work with you to develop a program that meets your specific needs and goals, ensuring that your business is well-equipped to take on the current challenges and opportunities of the circular economy markets.
ACBA eD is a good example of the integration of technology and circular economy practices to drive socio-economic development and we are committed to making circular economy education accessible to businesses and organisations of all sizes and sectors. We believe that by providing high-quality education on circular economy, we can empower businesses and organisations to create a more sustainable and resilient future for people and the planet.
We invite you to join us on this exciting journey towards building a more circular and sustainable future for all.
Be the first to know the latest on ACBA eD by visiting this link: https://acba.africa/acba-ed/