This article was authored by Nair de Sousa and received contributions from Perkins Omondi and Dr Rita Okoroafor.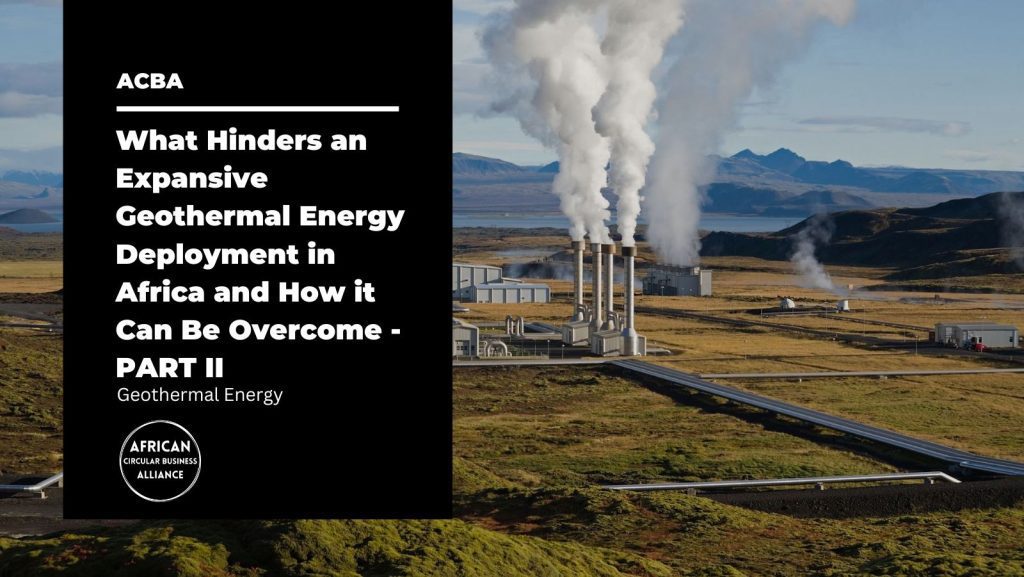 Geothermal energy has the potential to provide reliable and sustainable electricity to many African countries, but the deployment of this technology has been slow. Despite significant geothermal resources in Africa, the continent still lags behind other regions in terms of geothermal energy development. Several factors hinder the massive deployment of geothermal energy in Africa and some of the main reasons are demonstrated as follows:
Lack of Funding and Adequate Investments: The high upfront capital costs of geothermal energy projects are one of the major barriers to its development in Africa. The initial exploration and drilling phases require adequate long-term financing, which is often unavailable in many African countries due to the perceived high risks associated with technology usage and operational constraints. Many investors are deterred by the lengthy development timelines of geothermal projects which can be difficult to obtain the return of investments in short-term periods.
The government of Kenya founded its own Geothermal Development Company (GDC) in 2008 which is responsible for geothermal power exploration and developing geothermal steam fields. GDC is tasked with developing 5000 MW of geothermal capacity by 2030. This power generation capacity is currently being exploited by Kenya Electricity Generating Company (KenGen), a state-owned energy company, for the production and generation of geothermal power in partnership with other private Independent Power Producers (IPP) like Akiira Geothermal Limited, which owns around 30 % of the company shares as stated by Greiner et all (2023). As demonstrated, Kenya has been a major driving force in attracting large-scale infrastructure investment aiming to become a middle-income industrialized country powered by geothermal energy. Yet, it has been challenging for several governments and even private companies to bear the risk of unsuccessful exploration and maintaining construction and development of geothermal. These challenges are majorly exacerbated by a shortage of local expertise in geothermal energy generation, capital costs, and regulatory frameworks, especially on rights to land access, and infrastructure development. Hence, each of these challenges will be separately discussed in this article.
On the other hand, recent reports demonstrated that apart from other energy sources such as wind and solar, Djibouti has untapped renewable geothermal sources and the country envisions having 100% universal electricity access by the year 2035 with studies and explorations currently underway. According to Agence Ecofin, Djibouti still depends largely on imported coal to operate its geothermal power plant installed with 126 MW power generation capacity. This dependency on coal is inadequate and makes a reversal trend with alarming implications for global emission targets as the country seeks to integrate renewable power into its energy systems. Thus, more adequate investment is critical to ensure that clean energy investments are planned to regenerate natural resources and ecosystems by eliminating waste, pollution and designing services or products with circular economy principles in mind. This is not only critical to address financing gaps but also it is vital to demystify the idea that Africa does not require decarbonization of industrial processes due to its current condition as a lower emitter of greenhouse gases.
Nonetheless, inadequate investment is a challenge that can be addressed by a call for political action from all neighbouring African countries with good geothermal potential. All those countries together, as stated in Part I, can create a dedicated geothermal financial roadmap for a business cluster network, in which resources are strategically shared in joint ventures. This would reduce the overall costs required for long-term investments in the region mainly if the financial roadmap considers environmental, social and governance (ESG) practices. Embrasure of ESG frameworks would potentially inform the ambitions of the geothermal sector to become a sustainable investment. In turn, green financing would be attractive since ESG is a key determinant of geothermal power sustainability. This would be a bold step towards accelerating the generation of carbon-neutral energy production necessary for reinforcing local economic development and the African cities struggling with electric mobility and its distribution.
Limited Strong Technical Capacity and African-based Expertise: The lack of strong technical capacity is similarly one of the main reasons behind hindrances of expansive geothermal energy developments in Africa. In spite of the advances in geothermal energy resources in Kenya, there is no single higher-level academic infrastructure specially dedicated to capacity building for the young generation of Africans forcing governments to seek foreign consultancy to cover research needs. There have been discussions on the possibilities for setting up regional geothermal learning centres and the Dedan Kimathi University of Technology has taken the challenge step to establish one. Hence, the Geothermal Energy Training and Research Institute (GeTRI) was expected to offer regional training and research programs, but the institute still relies too heavily on its links with foreign institutions to develop its local knowledge and content. Similarly, the Geothermal Center of Excellence (GCE) founded under GDC has been instrumental in bridging the skills gap in the geothermal sector with the aim of enhancing the competency levels of experts in the sector. The African Rift Geothermal Development Facility (ARGeo) supports and boosts the utilization and development of geothermal resources with the sole purpose to promote low-carbon energy and minimize greenhouse gas emissions. KenGen set up Geothermal Training Centre (GTC) in 1989 to help equip its staff with expertise and skills relevant to the geothermal sector.
Although there is evidence that some African nations are already working towards developing locally-based technical capacity to operate and maintain geothermal power plants, recent reports have demonstrated that only around 20% of African-based energy experts have published relevant research. Additionally, most of those publications fail to consider the region's development goals and focus only on country-level development goals. This also causes hindrances to African economic development that are usually limited to a small set of climate solutions in which recognized key available options that could support the pathways to transitional climate targets regionally have been neglected. A good example of this is that African nations are still not considering using the energy mix as a solution for both local and regional energy demands. A good example of this would be the combining of different technologies such as Geothermal with Direct Air Capture facilities creating opportunities to develop a carbon-negative economy where more ambitious climate targets are considered.
A solution to all this could be to set up strong regional technical hubs with African-based learning centres supported by African governments and investors aiming to capacity-build African-based experts compromised with factual and efficient regional sustainable development. The technical hubs should not only include geothermal education but integrate other sciences and technologies so that innovative and efficient solutions can be produced.
Lack of Strong Regulatory Frameworks: Another major challenge hindering the development of geothermal energy in Africa is the lack of leadership in decision-making at the regional level. As mentioned before, it will require strong political leadership and strong regulatory frameworks that could be implemented for solving problems in the region and not only for solving country-level issues. Several African countries have already established legal frameworks for developing geothermal resources, but still, many challenges remain with impractical solutions when it comes to mutual regional policies. The lack of such regional standards makes it harder for investors to take informed decisions and carry out regionally-based geothermal projects.
However, some countries in Africa have developed legal frameworks to help streamline the energy sector. Kenya has made efforts to formulate legislation which plays a vital role in ensuring the sustainable development of geothermal resources. The Geothermal Resources Act (1982) regulates access to and exploitation of geothermal resources meant for generation of energy and the Electric Power Act (1997) provides a framework for the regulation and distribution of power and establishes the Energy Regulatory Board (ERB). The Energy Act (2019), Environmental Management and Coordination Act (1999), and the Water Act also have a direct influence on Kenya's geothermal sector. More recently, the National Green Fiscal Incentives Policy Frameworks (2022) demonstrates that green fiscal reforms in Kenya can leverage private sector financing of climate actions and accelerate the transition to a low-emissions development pathway. This way, this leading country is ensuring environmental sustainability in its energy transition agenda and is definitely supporting the country to enhance its climate resilience across key sectors through a variety of fiscal and economic mechanisms.
Djibouti and other neighbouring countries are still in the process of setting up institutions and formulating policies specific to its geothermal sector, though currently has the Djibouti Office for the Geothermal Energy Development (ODDEG). This is mandated to strengthen the country's geothermal energy development as well as oversee sector-related operations.
Competition from Other Energy Sources: competition from other energy sources, such as coal and natural gas is a significant challenge to the deployment of geothermal energy in Africa. Many African countries still rely heavily on fossil fuels for their energy needs. These energy sources are often more affordable than geothermal energy and already have well-established supply chains, making it difficult for geothermal energy to ramp up on the market and compete. For instance, though a more viable energy competition approach, Kenya's nuclear power prospects with the Nuclear Regulatory Act enacted in the year 2019, establishing the Kenya Nuclear Regulatory Authority (KNRA) efforts to have nuclear power installed by 2038 would potentially divert resource allocations from geothermal power development, as well as inform investors' choices.
Finally, there is evidence that the development of geothermal energy in Africa requires strong and long-lasting support from stakeholders in the form of partnerships and joint ventures from the public-private sector. Strong regulatory frameworks and policies, increased funding and adequate investment for developing technical capacity and expertise are among the main barriers hindering geothermal deployment. Overcoming these challenges will boost the full economic geothermal potential of the continent and drive sustainable economic growth and opportunities.
As demonstrated in Part I, geothermal energy has multiple applications ranging from electricity generation to direct use. A massive investment in the geothermal potential would allow African developing economies to progress in many different ways by implementing Strategic Sustainable Development Plans. This would reinforce the African regional economies and leverage the energy mix for maintaining their regional self-sufficiency while gradually reducing the dependency on the fossil fuels industry. This way, economic growth is promoted as more investments in electric power generation and electric mobility will create wealth and reinforce local economies and cities. As a result, social change is promoted as more relevant jobs for the local communities will be created, the type of jobs aligned with mandatory requirements that address Climate Change. And as mentioned before, there is no silver bullet to fight climate change. It is rather a combination of synergies that will accelerate the move toward a carbon-free industry so that we get to the "Africa We Want".

The End of Part II