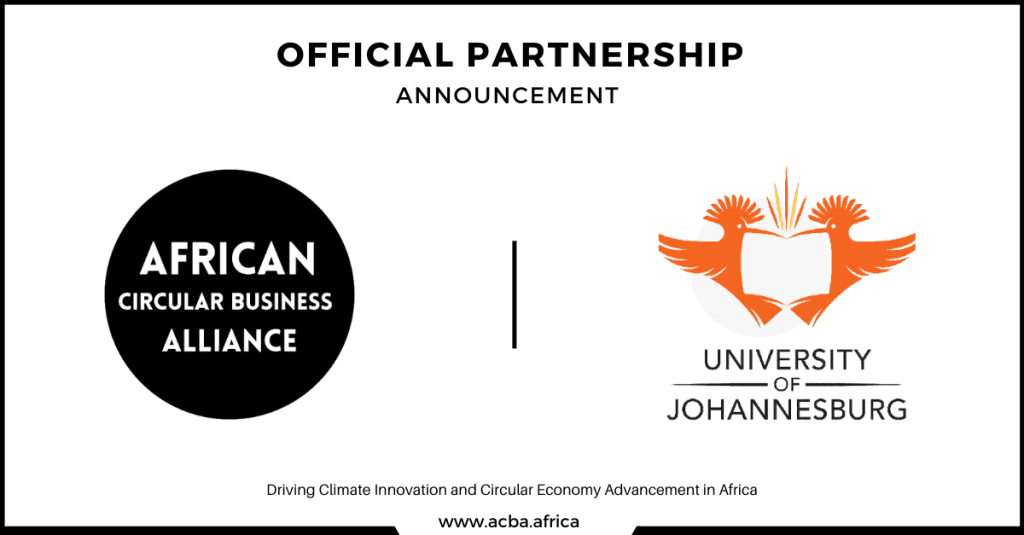 Johannesburg, September 6, 2023 – The University of Johannesburg (UJ) and the African Circular Business Alliance (ACBA) are thrilled to announce their official partnership. This collaboration involves UJ's Centre of Ecological Intelligence, Faculty of Engineering and Built Environment, and aims to drive research development, attract investment opportunities, and promote the adoption of climate technologies and circular economy practices across Africa.
The partnership between UJ, a leading academic institution renowned for its commitment to sustainable development, and ACBA, a prominent multinational organisation dedicated to promoting circular economy, will be leveraging their collective expertise, resources, and networks, to create a sustainable future by addressing pressing climate-related challenges and fostering economic growth in the region.
Central to this partnership are initiatives to drive cutting-edge research programs aimed at expediting innovation, production, and the deployment of climate technologies and circular economy practices across Africa. This collaborative endeavour will harness the synergy of diverse stakeholders, including industry and government entities, to expedite the commercialisation of sustainable solutions targeting climate change and advancing resource efficiency within the region.
Furthermore, the partnership will facilitate the hosting of dedicated mid and high-level meetings, webinars, workshops, and conferences. These events will serve as platforms to educate business leaders, investors, and government entities on circular economy practices, impact investment opportunities, and climate innovative technologies for adaptation and resilience. Through knowledge-sharing and capacity-building initiatives, UJ and ACBA aim to create awareness, inspire action, and drive investments and innovations towards sustainable development projects across Africa.
Recognising the crucial role of regulatory frameworks in shaping sustainable practices, UJ and ACBA will propose policies to public management to accelerate the Climate Change Agenda in Africa. The organisations will actively advocate for policies that incentivise circular economy practices and investments, advance climate adaptation and resilience, and foster economic productivity in the region.
This partnership is strategically aligned with the United Nations – Sustainable Development Goals (SDGs) for creating an enabling environment that catalyses positive change and benefits both the environment and local economies in the region, implementing circular economy principles and climate technologies to create a thriving and resilient future for the continent.
Professor Letlhokwa Mpedi, Vice-Chancellor of the University of Johannesburg, expressed his enthusiasm about the partnership, stating, "The University of Johannesburg is committed to promoting sustainable development and addressing the urgent climate challenges we face. By partnering with the African Circular Business Alliance, we can combine our expertise to accelerate the adoption of climate technologies and circular economy practices in Africa, fostering economic growth and building a resilient future."
Mr. Miguel Peters, Chief Executive Officer of the African Circular Business Alliance, added, "We are delighted to collaborate with the University of Johannesburg in our mission to promote circular business models, build climate innovative technologies, and promote sustainable practices across Africa. Through our joint efforts, we can create a powerful platform for knowledge exchange, capacity building, and policy advocacy that will drive the transition towards a circular economy, and accelerate green investments and the innovation of climate technologies on the continent."

For media inquiries, please contact:

University of Johannesburg:
Name: Godfrey Ndamane
Email: gndamane@uj.ac.za

African Circular Business Alliance (ACBA):
Name: Susan Bandile
Email: press@acba.africa

About the University of Johannesburg (UJ)
The University of Johannesburg is a vibrant, multicultural and dynamic University that shares the pace and energy of cosmopolitan Johannesburg, the city whose name it carries. Proudly South African, the university is alive down to its African roots, and well-prepared for its role in actualising the potential that higher education holds for the continent's development. UJ has transformed into a diverse, inclusive, transformational and collegial institution, with a student population of over 50,000, of which more than 3000 are international students from 80 countries. This makes UJ one of the largest contact universities in South Africa (SA) of the 26 public universities that make up the higher education system. The vision of the UJ is to be "an international University of choice, anchored in Africa, dynamically shaping the future". The mission can be described as follows: "inspiring its community to transform and serve humanity through innovation and the collaborative pursuit of knowledge". These are underpinned by four values, namely: imagination, conversation, regeneration and ethical foundation.
About the African Circular Business Alliance (ACBA)
African Circular Business Alliance (ACBA) is a multinational organisation dedicated to advancing circular economy principles throughout Africa by providing businesses and organisations with the necessary tools and resources to transition to circular practices and achieve net-zero goals. Through its directors, ACBA applies its respected thought leadership and effective advocacy to generate constructive long-term solutions and take shared action to drive business action on sustainability in the coming decade and beyond. ACBA works alongside policymakers, industry experts, civil society organisations, governmental agencies, academics, and many other stakeholders to establish a supportive ecosystem for circular economy initiatives and heighten consciousness about the benefits of circular economy practices and sustainability.