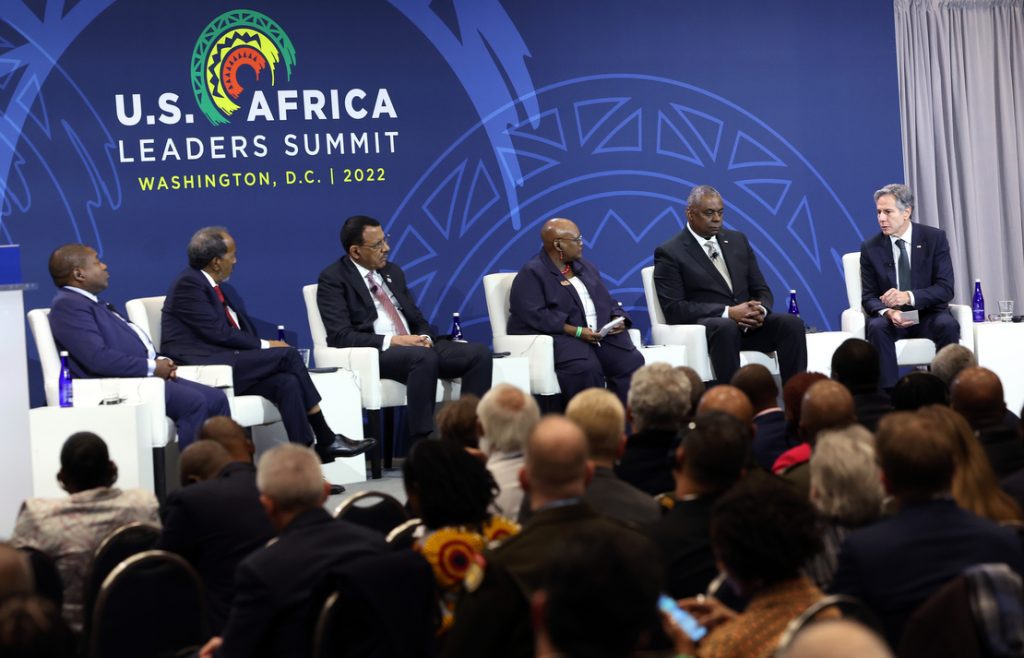 The U.S-Africa Leaders Summit that started Tuesday in Washington invited leaders across Africa, among them our Energy Sustainability Director, Nair de Sousa, to discuss the region's climate, financial, health, and political challenges.
Despite having made relatively little contribution to the carbon emissions causing climate change, the African continent is one of the most vulnerable areas in a warming globe.
Since taking office, Biden has committed $1.1 billion to help with natural resource preservation, climate resilience, and a fair energy transition in Africa.
Through the fiscal year 2023, around $300 million will be allocated to programs supporting renewable energy. A portion of the funds will be used to support the creation of a new U.S.-Africa Clean Energy Network, which would link clean energy businesses with business prospects and therefore broaden access to dependable, clean electricity.
Leaders made a new $25 million loan announcement on the opening day of the summit for the construction of Malawi's first solar power facility. The United States will assist efforts to boost the proportion of women working in the green energy sector in South Africa, Kenya, and Nigeria.
A biomass power plant in Cote d'Ivoire, a clean hydroelectric power project in Sierra Leone, and a battery energy storage technology project in Zambia are just a few of the clean energy initiatives it will assist with awards totaling more than $4 million.
One of the top concerns for the African Union going into the summit is to speed up efforts to fulfil rising energy demands without compromising economic growth. Approximately 600 million people in Africa lack access to power. For some nations, this entails utilising all available energy sources.
According to Emmanuel Marfo, chair of the Environment, Science and Technology Committee in the Ghanaian Parliament, the continent of Africa is still at a critical juncture in its energy development, with several nations only now learning the full amount of their natural gas resources.
Therefore, he said, there needs to be a discussion about how to reward other nations for leaving fossil fuels in the ground if western governments want to support a transition away from them.
"It all boils down to the topic of stranded assets. The question is, "What happens to the prosperity or the development and industrialization of these countries that could have depended on the use of their fossil fuels?" if we truly want to break our dependence on fossil fuels.
Not all of Africa's nations can access fossil fuels. However, according to the International Energy Agency, they do have a lot of potential for developing solar and other renewables to power the expansion of the continent. The need is for investments.
According to Jacqueline Amongin, chair of the African Parliamentarians Network on Climate Action, renewable energy sources are used relatively infrequently in Africa, and as a result, the majority of nations there are unaware of or underappreciative of its advantages. She asserted that funding from the US and other nations at the UN climate talks may contribute in changing this perspective.
Since Africa is now lagging behind in the adoption of new technologies, putting renewable energy in the continent is crucial, according to Amongin.
"Africa has a small contribution to emissions, but we all need to take action since the repercussions on the continent are enormous." And because of this, it is crucial that the United States understands how difficult Africa's energy transition is.
Odarno noted that the 54 different countries represented in the group "are really at very, very different places when you talk about everything, when you talk about economic growth, when you talk about the impacts of climate change, when you talk about energy endowment and the capability to be able to navigate the energy transition."
"Therefore, to be effective, we need an Africa strategy that recognizes the uniqueness of all these countries."
At an event hosted by the Carnegie Endowment for International Peace earlier this week, Ervin Massinga, deputy assistant secretary of state for the Office of African Affairs, said the United States is looking at ways to make Africa accessible by investing to improve energy production. said that cleaner energy.
The new deals, including the energy deal, will be announced at the Africa Business Forum on Wednesday, he said. called for concrete investments in the future of the African continent, saying it was "not a promise that something will happen".
The world has invested far too little in the clean energy transition of the African continent. Only about 2% of renewable energy investments went to Africa. According to a Climate Policy Initiative study, annual funding for climate action is only 11% of what is needed to prevent and respond to global warming.
At the same time, the African Development Bank Group estimates that the African continent is losing 5-15% of its gross domestic product each year as a result of climate change.
The United States is contributing her over $1 billion from various government agencies to accelerate South Africa's transition to clean energy. The funding is part of an $8.5 billion package to help launch the Just Energy Transition Partnership program led by the US, UK, France, Germany, Japan and the European Union to help emerging economies recycle from fossil fuels. Assisted in the transition to renewable energy.
At last month's climate talks, Biden announced a $500 million deal to help host Egypt transition from natural gas to wind and solar. Under the agreement, the United States, Germany and the European Union will pay Egypt to replace 5 gigawatts of natural gas electricity with 10 gigawatts of renewable energy.
In exchange, Egypt agreed to quadruple its renewable energy installations by 2030 and take greater steps to reduce emissions.
In a crowded Egyptian conference hall last month, President Biden said, "Countries in a position to help developing countries make critical climate change decisions, accelerate the energy transition, pave the way to prosperity, and contribute to climate change." We should help them align with their commitment to change."
The Biden administration is also seeking to cut dependence on China and Russia for key minerals used to make clean energy, batteries and technology by expanding production in Africa.